It's that time of year again when the nights draw in and the pumpkins fill the fields ready to pick. So what activities are there to do in the October half-term in Essex?
Shriek Week at Colchester Zoo
Join in with some fantastic activities at Colchester Zoo everyday from 9:30 - 5pm. Shriek week at the zoo includes a timetable throughout the day of activities including Halloween trails, face-painting, crafts, pumpkin carving, fancy dress party, virtual ghost train ride etc. All in addition to the admission to the zoo to see a selection of wonderful animals. (Some extra charges may apply).
For any children over 12yrs, there is also The Trail of Terror in the evenings which includes a spooky trail through the park grounds (the zoo and animals are not open for the evening events). Food, snacks and drinks are available to purchase in Safe Zones and all under 16s must be accompanied by an over 16. Tickets are £20 per person, each trail lasting approximately an hour an a half. Booking is essential. BOOK HERE
Pumpkin Nights at Marsh Farm
Get ready to pick your own pumpkins at Marsh Farm's Pumpkin Village. Free parking and timed entry slots into the Pumpkin Village. Spooky backdrops and displays, perfect for photo opportunities and the Pumpkin Snack Shack is open for themed refreshments. Open every day from 6th - 31st October, 11am - 5pm. (Ticket does not include admission into Marsh Farm Animal Adventure Park. No need to pre-book. Find out more
Autumn photo sessions with Tina Wing Photography
Enjoy the less formal setting of a studio and have fun in the great outdoors with one of my award winning, outdoor lifestyle portrait sessions. They can be held at your favourite park, in amongst the autumn leaves or with pumpkins for a spooky Halloween photo shoot, for family groups or individuals. A fun day out and beautiful images that will be treasured memories forever. Book at BOOK HERE
ActivAte Essex
Dates: Mon 25th - Thur 28th Oct, 10am-2pm
Halloween themed Activities and lunch
Working with a network of trusted local delivery partners, ActivAte run FREE face to face clubs during the school holidays. This October Half Term programme is funded by the Essex County Council for children eligible for benefits based free school meals and those from low income working families who would benefit from this support.
Each Essex ActivAte club will deliver fun physical and enrichment activity, fun food education and a nutritious meal. Alongside this we also provide an array of activities for children and families to enjoy at home, through activity packs and virtual content, which will be accessible via the Family Support page.
These events are free for eligible families. Find out more

Hurley's Pumpkin Forest
Hurley's is the place to go for all your pumpkin buying needs. With a wide range of varieties of pumpkins and squashes, tiny ones and huge ones and everything in between! £5 per car to park and enter the farm, with a wheelbarrow to carefully select your pumpkins to purchase, all displayed around the farm to give you plenty of room to choose. Refreshments and facilities are available as well as activities for kids. It is a working farm so dress appropriately and get your car ready to take home some pumpkins! Booking is essential. BOOK HERE
Essex Wildlife Trust
The EWT has a great selection of events this half term, and as a Corporate Member, I always support them. Here are a couple of my favourites.
Bonkers About Conkers (For 4-8 year olds and accompanying adults) EWT
Date: Sat 23rd Oct 2021, 2 time slots available
An event at Hanningfield Reservoir Nature Discovery Park to celebrate the seed collecting season. Collect, catapult and craft activities with conkers. Come appropriately dressed for the outdoors and the weather and enjoy some autumnal fun! Free parking available. Tickets are £7 each. Booking is essential. BOOK HERE

Pumpkin Carving in Thorndon
Date: Tuesday 26th October 2021, 4 time slots available
Think of your best pumpkin design and spend an hour carving out your creation using the tools provided. They will even take care of the cleaning up afterwards! This even is designed for families to take part together, younger children can find carving difficult so might need a stronger pair of hands whilst using the tools. Children must be accompanied by an adult. Suitable dress for the outside and weather is required to get your spooky pumpkin all ready in time for Halloween! Parking available, charges apply. Advanced booking is essential. BOOK HERE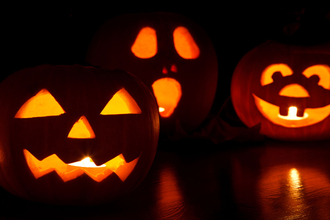 Half-term activities at Barleylands Farm Park
Open everyday from Saturday the 23rd to Sunday 31st of October for the annual Halloween Fest.
This year there are lots of fun activities planned for a hauntingly good half-term, including a spellbinding story time, broomstick making, spooky tractor rides and our haunted farmer's labyrinth. There is also a chance for your little ones (or you!) to face their fears when they meet the snakes, tarantulas and other creepy critters in the Reptile House. And as always, there is a free pumpkin for every child!
Please note on the 29th, 30th and 31st of October they will be closing early at 4pm for Spooky Nights (this event requires a separate ticket for entry)
Spooky Nights see the return of Skittleman Disco, toddler fairground rides, spooky walks and safe trick or treating around The Village. Booking required. BOOK HERE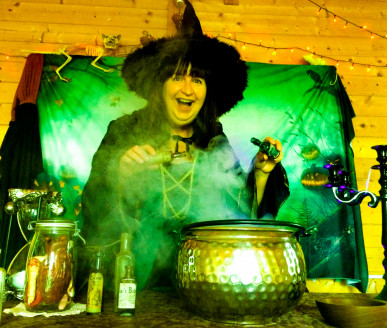 Paint Parties (for adults)
For any adults that are looking for things to do in the half-term to try your own hand at some creativity, why not give a paint party a go with Express Yourself Essex Paint Parties. During the half-term week, the Haunted Castle painting will be led step by step by an artist at venues in Billericay and Leigh-on-Sea. You don't need to be an experienced painter, you can follow the instructions or add your own personal touches to your artwork. A2 canvas, paints, brushes and aprons are all provided for and refreshments are available to purchase at the venue. Due to venue rules, these events are for over 18s, a place to relax and enjoy the calming action of painting and meeting up with friends and family. Free parking available at venues. View events and book tickets. BOOK HERE



Ice Skating Disco
Riverside Ice rink is bringing back their popular club nights, every Friday and Saturday evening for the autumn. The evening includes live music for DJ Ed Nicks including chart hits and club classics. Food and drinks are available at the bar as well as areas to chill out when you need a rest from skating. Booking is advised. Please note Riverside is a cashless centre (although you will need 50ps for lockers). Skates are available to hire - bring your own socks! Please note these events will have loud music and strobe lighting/ flickering lights. Find out more HERE
Have a great half term.